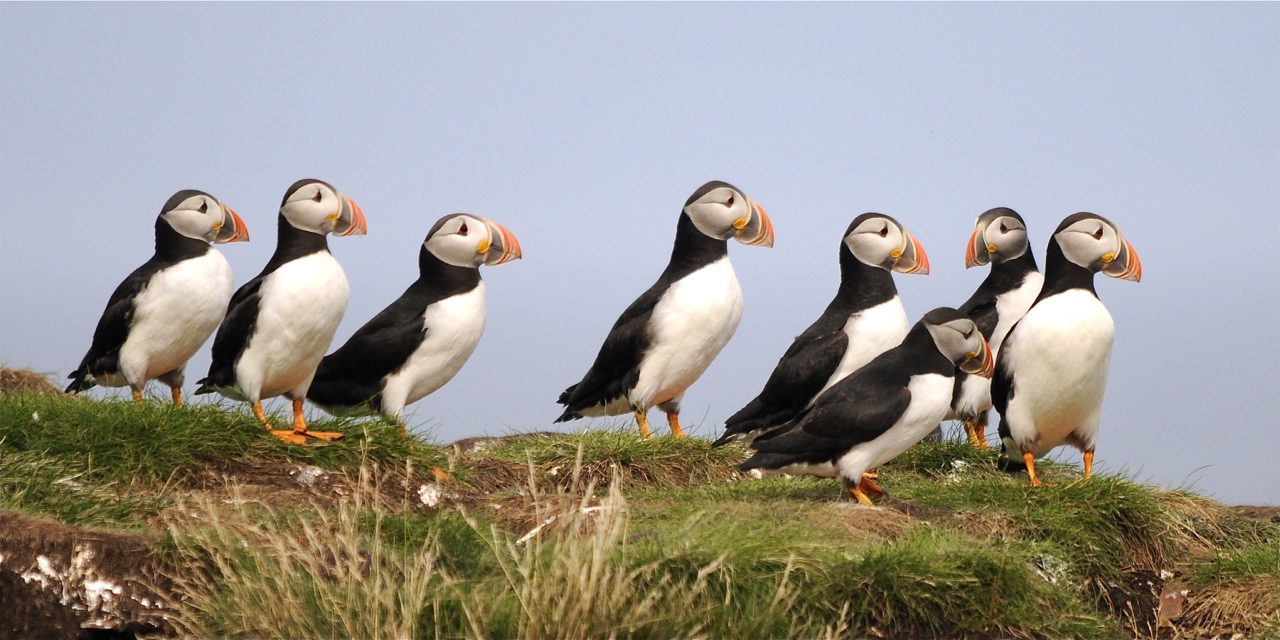 The Bonavista Peninsula is one of the few places in North America where you can get up close to a puffin colony without having to get on a boat, although you can do that too if you wish.  
ELLISTON: BIRD ISLAND
Bird Island is one of the best places to view Puffins from land in Newfoundland and its location is accessible free of cost. There is a donation box and we encourage our visitors to contribute a small amount as there is some infrastructure and upkeep required for the site and area.  
When you arrive at the Puffin site, there is a 5-minute walk from the road to the cliff that faces the island where to Puffins nest. Depending on the time of the day, their mood and the size of the crowd the puffins may fly to your side of the cliffs.  
Elliston has become very popular with visitors.  If you would like to experience the puffins in a less crowded environment, we suggest taking a tour with Tuckamore Discovery Tours or asking the Artisan Inn Staff when you check in where some other more locally known spots to view puffins are.
For directions to Elliston from Trinity please visit our page
Additional Links
http://www.townofelliston.ca/5ttd/puffins.html
Video: Candice Does Newfoundland: Elliston Puffins and Roots Cellars
Downhome Article about Tuckamore Discoveries Puffin Tours
Matador Network: Elliston Puffins
Information about puffins from Canadian Geographic:
"The Atlantic puffin  is a pigeon sized sea bird with a white underside and black head, back and wings. is the smallest species of puffin. The pigeon-sized seabird's black head, back and wings contrast sharply with its white underside. They do, however, offer a splash of colour with the blue, orange and yellow beaks and bright orange feet.  
Puffins are poor fliers and evolution has not yet helped them to develop a graceful landing strategy.  While not as useful in the air, their wings make them excellent underwater swimmers.
Puffins live for the majority of the year at sea and come to land to burrow and breed for on the Bonavista Peninsula between late May and late August. Puffins normally keep the same mate and burrow from year to year and on average live for up to 20 years."